Better Management Practices (BMPs) are approaches that protect the environment by helping to reduce impacts of growing commodities.

They also help producers to make profit in a more sustainable way.
BMPs can help producers to participate in credible certification programmes such as FSC, MSC or RSPO that can open new market opportunities and help reduce the impact of commodity production on the environment.

WWF works with producers and businesses that use natural commodities in their supply chains to identify, develop and promote BMPs.

Here are some examples.
CREDIBLE CERTIFICATION
In addition to Better Management Practices, WWF also engages with businesses through credible certification schemes that can help companies prevent environmental degradation and drive key industries toward better performance. Find out more ►
Better sugarcane cultivation
© Adriano Gambarini / WWF-Brazil
WWF works with farmers in key sugarcane producing areas to increase yields while at the same time reduce soil erosion, pesticide use and water pollution from conventional sugarcane production. In Australia, for example, we're on the ground with sugarcane farmers to reduce impacts downstream on the Great Barrier Reef. We are also active in Central America, South Africa and Brazil.
Find out more
 ►
The 2050 Criteria
Providing guidance based on leading industry practice, The 2050 Criteria is a field guide for investors to access mainstream agricultural, forest, and seafood commodities in a better way.  It provides a framework to identify responsible practices in key soft commodity sectors.

► Get the report
Pakistan Sustainable Cotton Initiative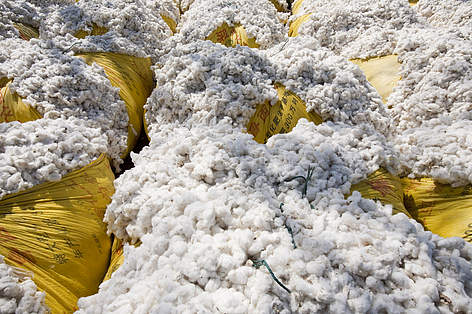 © Global Warming Images / WWF
Cotton production is an important source of income for farmers and an important pillar of the Pakistani economy. Cotton is mainly grown on irrigated land and about 75% of imported pesticides are used for its cultivation.
WWF and IKEA are collaborating on a project to improve livelihoods through the introduction of Better Management Practices (BMP) to make cotton cultivation in Pakistan more sustainable and economically viable. We do this by working with famers to reduce inputs—only irrigate and use pesticides when needed, as opposed to following a set schedule and using pesticides preventively.
This allows farmers to grow more with less costs and leaves them with more income without having to sell their crop at a higher price.
Find out more
►
Increasing the sustainability of Newfoundland cod
© Wild Wonders of Europe /Magnus Lundgren / WWF
When WWF-Canada embarked on a Fisheries Improvement Project (FIP) to increase the sustainability of the Newfoundland and Labrador cod, the fishery had not yet met MSC certification standards. WWF partnered with the largest North American cod processing company Icewater Seafoods Inc. (Icewater) that supplies to EU retailers with a focus on those who have pledged to source only certified sustainable seafood. The FIP followed WWF's three-step approach and successfully implemented three high priority work plan activities such as addressing the MSC principles:

1. the FIP catalysed the development of the first conservation strategy and rebuilding plan for any cod fishery in Canada

2. the FIP catalysed a collaborative inshore cod tagging programme to get a better understanding of exploitation rates and stock status;

3. the FIP led to a bycatch analysis that is currently underway.

The Newfoundland and Labrador cod FIP was a watershed moment in Newfoundland and Labrador's rich fishing history. The FIP co-client group included all sectors of the fishing industry: WWF; Icewater: Ocean Choice International (OCI) ; Fish, Food and Allied Workers Union; Department of Fisheries and Aquaculture and Fisheries and Oceans Canada.

The approach was collaborative and inclusive. Sincere commitment was illustrated by the high level of engagement and information sharing between stakeholders in the FIP workshop and implementation meeting. In early March 2014, close to the end of the FIP's 3-year timeline, Icewater and OCI took the next step to securing the long term sustainability of this Atlantic cod stock by entering it into the MSC certification process.

In March 2016, as a successful conclusion of the FIP, the first Southern New Foundland cod fishery became MSC certified.