© WWF Lithuania/Egidijus Povilaitis
AN AWARD FOR FARMERS WHO MAKE A DIFFERENCE
The winners of the 2018 Baltic Sea Farmer of the Year Award have all taken measures on their own initiative to reduce nutrient runoff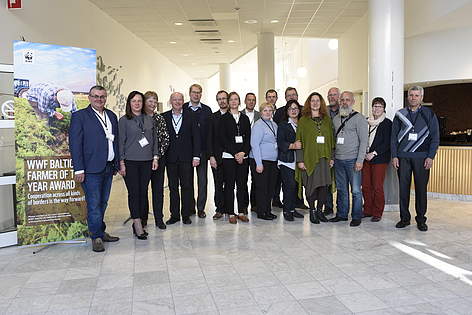 © Kajsa Juslin
The importance of sustainable agriculture to reduce the threat of eutrophication of the Baltic Sea cannot be underestimated. Agriculture accounts for more than half of the nutrient inputs leading to the eutrophication. Farmers around the Baltic Sea therefore play a crucial role if we want to change the current situation. With the WWF Baltic Sea Farmer of the Year Award – we want to inspire farmers in the entire Baltic Sea region to take an active part in combating eutrophication.

The WWF Baltic Sea Farmer of the Year Award was launched in 2009 to highlight best practices and recognize farmers who are leading the way to reduce nutrient runoff on their farms. Applications are received from farmers from countries within the Baltic Sea catchment who are practicing both organic and conventional farming, as well as many different types of agriculture. The national winners, chosen by juries in each country, receive a prize of 1,000 Euros. From these national winners, an international jury selects a regional winner who receives a grand prize of 10,000 Euros.

Around 97% of the Baltic Sea is still affected by eutrophication, and agricultural measures remain a critical part of the solution. This year's winners not only prove that taking effective measures to reduce nutrient runoff is possible, they also show us that these solutions can yield recognizable co-benefits for farm productivity, and the surrounding community and ecosystem.

So far, around 60 farmers around the Baltic Sea have been awarded for their innovative measures. This year's winning farms are diverse in size and type, ranging from a small biodynamic farm to an 800 hectare conventional crop and livestock farm. Each farmer has a unique story to tell about the methods they've successfully tried and implemented to reduce nutrient runoff to the Baltic Sea.

For the full story, we encourage you to read the brochure, which you can find here
2018 REGIONAL WINNERS
This year, that farmer is Krzysztof Kowalski, a conventional pig and crop farmer from Poland. Krzysztof has been running Kowalski Farm, a multi-generational crop and livestock farm located in the Turka River basin, since 1984. The farm is revered for its production of award-winning cold pressed flax and rapeseed oils, and for breeding and conserving the Zlotnicka Biala pig. And now, it's even known for its proactive efforts to reduce nutrient runoff to the Baltic Sea.

The jury was impressed by the wide range of measures Krzysztof employs to reduce nutrient leakage, as well as by his holistic approach to sustainable farming. Besides applying fertilizers in a careful and well-timed manner, he practices crop rotation and has created nine midfield wetlands and various buffer zones. Last year, Krzysztof and his family additionally planted 1,080 trees along the river and between the fields to helps prevent runoff while also creating habitats for wild animals.
PREVIOUS RECIPIENTS OF THE REGIONAL AWARD
Katariina Vapola and Jyrki Ankelo from Finland (2009)

Håkan and Teri Lee Eriksson from Sweden (2010)

Marian Rak from Poland (2011)

Juhan Särgava from Estonia (2013)

Juris Cirulis and Vija Cirule from Latvia (2014)

Minna Sakki-Eerola and Markus Eerola from Finland (2015)
ENVIRONMENTAL CRITERIA
a. Nominee(s) must have undertaken concrete measures to reduce nutrient emissions from their farm. Nutrient emissions include both nutrient leaching to water and gaseous losses as ammonia emissions from manure.
b. Nominee(s) cannot have any problems with fulfilling the minimum legislative environmental standards or have any juridical process ongoing concerning environmental protection, animal welfare, labour protection or other relevant legislation.
c. The measures undertaken to reduce nutrient emissions should be innovative or even "extraordinary" with reference to national context and standard. The nominee(s) should be able to be demonstrate the effect of these measures on reducing eutrophication.This means that the farmer:
may have invented, tested or practiced his/her own successful measures to reduce nutrient emissions and can demonstrate the benefits of this.
might be using conventional, well proven measures but applying them in a large scale.
may be able to measure the effects – or – be somewhat of a pioneer in his/her area for a new technique which is promising but not yet able to be measured.
might not fit in perfectly to any of the criteria above but is a good ambassador for applying effective methods to reducing nutrient emissions from their farm