Experience the Difference First Hand
Papua New Guinean worker harvests a ripe palm fruit to ready for the mill. This facility is owned and operated by New Britain Palm Oil Ltd. one of the first companies to be independently certified by the Roundtable on Sustainable Palm Oil (RSPO) as being a leader in the production of sustainable and ethical palm oil in the world. Kimbe Bay, West New Britain, Papua New Guinea
Appreciation for our Major Supporters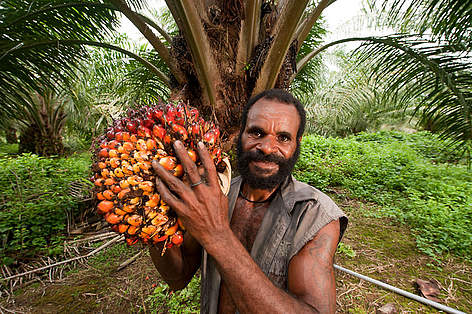 © Jurgen Freund / WWF
When you make a gift to WWF exceeding US$10'000 per year, you become part of a select group of donors who play a crucial role in advancing our conservation efforts.
As an expression of our appreciation for your generosity - and to keep you informed and involved in our work - you will receive a set of benefits corresponding to your giving level, including:
Engagement with WWF
Direct access to our philanthropy team who can answer any questions you may have about our work, your gift or our giving programmes.
Annual Events
WWF International organises regular events that explore a wide range of themes. Our Conservation Dinners, for example, are an opportunity to introduce some of the world's sharpest thinkers and speakers, bringing together a select group of people who have a genuine interest in some of the most challenging issues we face. These evenings offer an opportunity for guests to hear from world-class external speakers and senior WWF experts about key environmental issues and how WWF is fighting to secure the future of our planet.
We are delighted to be working with
Brown + Hudson
as sponsor of selected WWF events and field trips.
WWF Publications
To keep you informed about our work, you will receive the WWF Annual Review summarizing the year's most compelling conservation stories, as weell as WWF's annual financial overview. You will also receive WWF flagship publications including the Living Planet Report, as well as a newsletter for our major supporters with information on donor events and trips, profiles on our donor champions and updates from the field.
Recognition in the WWF Annual Review
With your permission, you will be publicly acknowledged in our WWF International Annual Review.
Gift of Appreciation
Every year, you will receive a beautiful wall calendar, full of inspiring nature photographs, featuring the places and species WWF works to protect around the globe.