The office is a great place to make some big savings on energy and waste. Whether it be a small home office or a large corporate office there are many things you and your workplace can do to help the environment.
Save paper
How much paper is simply thrown away in your office every day? Reuse paper for scrap and recycle. Print on both sides of a page when possible.
Companies can save significant sums on printing costs by publishing reports electronically rather than on paper, and customers have instant access to the report. Use e-mail and websites to market your products. Save money on printed publicity material and postage costs. Aim for the paperless office.
Find out how to reduce paper consumption in your workplace
Turn it off
Use a large power strip for your computer, broadband modem, scanner, printer, monitor and speakers. Switch it off when equipment is not in use. This is a practical way to cut 200 kWh per year. Make sure computers are switched off at night.
Use green energy
Ask your employer to
purchase energy from a green supplier
.
Love your laptop
Ask for a laptop instead of a desktop - it consumes 5 times less electricity. If you must have a desktop, make sure that you get an LCD screen instead of an outdated CRT screen.
Save power with you PC
Enable the power management function on your computer; contrary to popular belief, screen savers do not save energy.
Recycle office equipment
Donate old computers and office equipment to other organizations and institutions such as schools.
Don't travel unless you really have to
Use phone, e-mail or video conferencing wherever possible and/or organize a
Climate Care Day
.
Look for the FSC label

When you are shopping for the office and need to buy tissues, paper for the photocopier or a desk then look for the FSC label. When you see this label it means that the timber that was used to produce the item was grown and harvested sustainably.

Learn more about FSC

What do you do at your office to save energy and waste?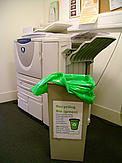 © Did you need to Photocopy that? © London Permaculture
Think twice before you print or photocopy.